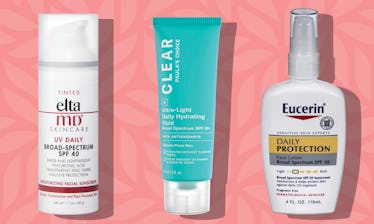 6 Of The Best Moisturizers With SPF, According To Your Skin Type (And Budget!)
Amazon/Bustle
There are a lot of great facial sunscreens out there, and many of them contain moisturizing ingredients. But if you're looking for a face cream with SPF that works as a moisturizer first, your options become a lot more limited. The best moisturizers with SPF focus primarily on keeping your skin hydrated while also offering the added benefit of sun protection. Facial sunscreens, on the other hand, work as sun protectants first, and do less of a good job at moisturizing.
It's worth noting that some recent studies claim that face moisturizers with SPF aren't as effective as straight-up sunscreen, so if you're looking for something to wear to the beach or while playing outdoor sports, you'll want to go with one of the best facial sunscreens. But if you're more interested in a face cream for daily, year-round use, a moisturizer with SPF should be just fine, unless you work outdoors.
Below, you'll find six great moisturizers with SPF, including an under-$10 option, a formula for acne-prone skin, and a green-tinted face cream that conceals redness. Just remember to apply them as the last step in your skin care routine for maximum efficacy.
Interested in more great facial sunscreens? Then check out these sunscreens that don't burn your eyes.