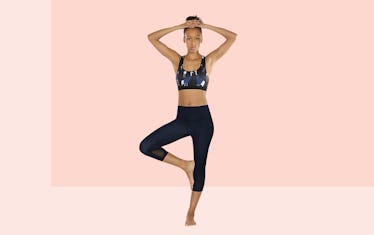 These Lightweight Leggings Are The Absolute Best For Workouts
When you're working out, you'll want leggings that are lightweight enough to feel bulk-free, but not so thin that they're flimsy or ready to tear at the seams. The best lightweight leggings for working out should be thin and breezy yet still be made of high quality material. Here are the biggest things to look for:
Construction: In addition to being lightweight, the fabric should be stretchy, too. You want flexible material that moves with your body and doesn't feel tight or bunchy. Additionally, look for custom features that allow for extra range of movement, like gusseted crotches, or special seams that offer flexibility and freedom from chafing.
Moisture Management: You will be sweating a lot when you're working out, so look for tights that have moisture-wicking properties and the ability to dry quickly. This is typically going to mean materials such as polyester, nylon, and spandex. You'll want to avoid cotton, which tends to hold on to sweat.
Temperature Regulation: If you're worried about overheating, look for extra breathable fabric and features like mesh panels or ventilation channels. Conversely, if you're working out in cold weather, you'll want something warm with thermal insulation.
Taking all of those factors into consideration, I've compiled a list of the best lightweight leggings for working out to help you take your fitness routine to the next level.