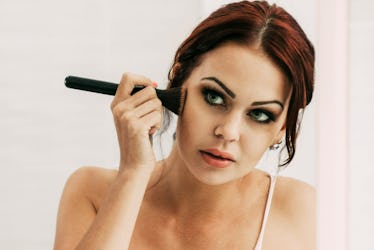 The Best Brushes For Applying Foundation, Because You Might Be Using The Wrong One
by Kristin Collins Jackson
It's hard enough finding a foundation that checks off all the boxes — like color, coverage, staying power, price, and ingredients. But once you've found the perfect match, the hunt is on to find one of the best foundation brushes to go with it. It's easy to be overwhelmed: There are just as many options for makeup brushes as there are foundation choices. Different brushes for our eyes, lips, cheeks, and face fill the shelves, and amongst everything, there are specific foundation brushes for each type of coverage.
It might be tempting to use the natural brushes we were born with — our fingers — but, for most formulas, they're no match for a great brush. Applying your makeup with a brush (and a little technique) provides a more even finish and allows you to blend multiple types of coverage in a way your fingers never could. Because they give you more control, foundation brushes can also help you apply less product to your face. And, for those with dry skin, applying foundation with a brush is a better option since your fingers actually absorb the moisture from your makeup and your face, whereas a brush won't.
These seven quality foundation brushes make it easy to get the finish and coverage you prefer.