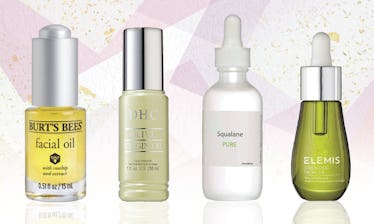 6 Lightweight Face Oils That Are Gentle, Non-Greasy, & Won't Irritate Sensitive Skin
Elite Daily/Amazon
If you have sensitive skin, you know how hard it can be to find beauty products that won't cause redness, breakouts, rashes, or bumps. As of late, face oils have become an essential addition to many skin care routines, thanks to their ability to restore moisture and, more importantly, lock in moisture from the serums and creams applied previously. If you, too, are hoping to add an oil into your routine, have no fear: there is a way to do so without causing irritation. Just stick to one of the best face oils for sensitive skin on this list, and you'll be good to go.
A good-quality face oil will not only attract and restore moisture, but it should also provide thirst-quenching luminosity and radiance. Some even have properties that can help regenerate skin. Specially-designed sensitive skin formulas often also work to calm irritated complexions and reduce redness, all without aggravating breakouts or allergy flare-ups, of course.
This list of the six best face oils available on Amazon were selected because of their gentle ingredients and soothing properties, so they're safe even for customers with even the most sensitive of skin. That said, everyone's skin is sensitive in its own unique way, so it's extremely important to patch test any new product on your inner arm before using it on your face.
Read on for the best gentle, non-irritating face oils, including a formula that treats acne, a cult Japanese beauty buy, and plenty of natural options that clean beauty devotees will love.