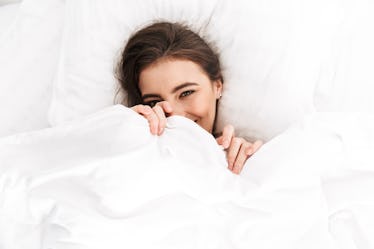 According To Reviewers, These Are The Best Egyptian Cotton Sheets You Can Buy
fotolia/Drobot Dean
For so many reasons, Egyptian cotton sheets are lauded in the bedding world. Because of the unique climate in Egypt and the fact that cotton from Egypt is hand-picked, its fibers can be woven more finely into softer and more durable sheets. But, not just any set of sheets will do. The best Egyptian cotton sheets based on reviews represent the cream of the crop, those soft and silky sheets that are tried and true according to thousands of Amazon reviewers.
Once you've settled on Egyptian cotton as your material, consider thread count. Thread count refers to the amount of vertical and horizontal threads woven together in a sheet, and can indicate how soft a set of sheets will feel (the higher the thread count, the softer the sheet).
For reference, you'll see thread counts that range from 200 to 800 in standard sheets, and even some that boast 1000-plus thread counts. But, word to the wise: Manufacturers have been known to inflate the thread counts of their sheets for the sake of marketing, so be diligent about looking through reviews (I have you covered here). Also keep in mind that, generally, as you increase the thread count of a set of sheets, the price will increase as well.
But, let's get to it. After sifting through Amazon reviews — both good and bad — I can say that these are the best Egyptian cotton sheets, based on reviews. Tip: These sheets are sorted by price, high to low.
A note on authenticity: To ensure you're buying authentic Egyptian cotton sheets, make sure to look for the triangular Egyptian cotton logo on the tag of your sheets, indicating that these are verified as authentic by the Egyptian Cotton Association.