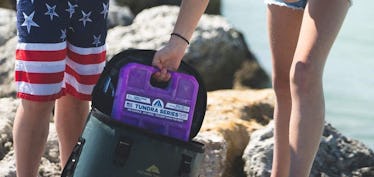 These Ice Packs Will Keep You Cooler Chilled Out For Much Longer — & They Start At Just $2
Amazon
No matter what kind of cooler you're toting around to the beach or on road trips, using one of the best cooler ice packs will keep the food and drinks inside colder for much longer. They are all made from high-quality reusable materials, but which shape and size will be right for you will depend on the size of your cooler and its contents. Since ice packs are not all designed the same, here are some things to consider when shopping for an ice pack for your cooler.
Size & Shape
Before shopping for ice packs, it's a good idea to figure out how many packs you'll need to purchase for your specific cooler size, In general, experts recommend a two-to-one ratio of ice to food or drinks for optimal chilling. In terms of style, refillable or softer cover packs will be much more flexible so you can easily mush them between your items and target where you want the cold action. Harder-sided ice packs can only really be used vertically or horizontally, but they are much more durable.
Ice Pack Type
Most ice packs are made with a mix of water and a chemically-formulated gel substance that can be reused time and time again. Though this gel is often nontoxic and biodegradable, if you'd prefer to go the all-natural route, you can get the benefit of a sealed, leak-proof ice pack by choosing one filled with only water.
Ice Pack Longevity
As a general rule of thumb, ice packs typically keep the contents of a cooler cold for about eight hours. However, if you need an ice pack to last longer than that, you may want to opt for the biggest size possible. Expert tests have demonstrated that larger ice packs are more likely to keep items cold for a longer period of time versus using multiple smaller sized ones, though keep in mind you'll need to allow for extended freeze time before they can be used.
To help you find the right option, below's a roundup of the best ice packs for coolers you can buy on Amazon.
We only recommend products we love and that we think you will, too. We may receive a portion of sales from products purchased from this article, which was written by our Commerce team.