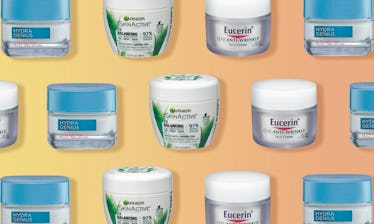 6 Great, Cheap Moisturizers That Prove You Can Have Beautiful Skin On A Budget
Amazon/Elite Daily
There's a common misconception that, in order for them work, skin-care products have to be expensive. And while there is some truth to that regarding products with formulas rich in active ingredients like serums and face oils, moisturizers are much more straightforward. In fact, many of the best cheap face moisturizers work just as well as their more expensive counterparts. And for some skin types, simpler is often better.
As long as you're familiar with the ingredients that do and don't work for your skin, shopping for an affordable moisturizer should be pretty easy. Luckily for sensitive skin types, many of today's drugstore brands offer formulas that are free of common irritants like synthetic fragrances and allergens such as propylene glycol. For oily and acne-prone skin, there are tons of mattifying and blemish-fighting options to choose from: A good tip is to look for a product that says it's oil-free or balancing. And if your face runs on the dry or dehydrated side, you'll have luck with creams that contain hydrating and moisturizing ingredients like hyaluronic acid, glycerin, aloe, and shea butter.
Below, find six of the best moisturizers under $20 (with the exception of one two-pack) that you can buy online, according to skin type.