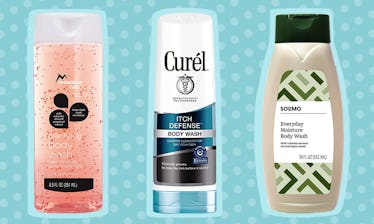 These Are The Best Cheap Body Washes You Can Buy For Under $7 A Bottle
Amazon/Bustle
Body wash is one of those utilitarian beauty products that you shouldn't have to spend a ton of money on. Many of the inexpensive formulas are equally as good as their prestige counterparts, so when it comes to shopping for the best cheap body washes, you just need to know what to look for.
Like with any other kind of beauty product, the most important thing to keep in mind is your skin type. Those with dry skin, for example, will want to reach for moisturizing, cream-based formulas instead of gels or foams. Keep an eye out specifically for ingredients like shea butter, coconut oil, and ceramides, and avoid anything with alcohol or sulfates. If you're looking for something that'll help treat body acne, try a formula with AHAs or BHAs (like salicylic acid), which helps promote healthy skin cell turnover.
Another thing to keep in mind is the environment around you. If you live somewhere cold, or it's winter, you'll want to choose a richer, moisturizing formula, since chilly temperatures are known to dry out skin. On the other hand, those who live in hot, humid climates might want to go with something lightly exfoliating, since sweat and oil tend to clog up pores.
Below, six great, affordable body washes for every skin type, budget, and household.