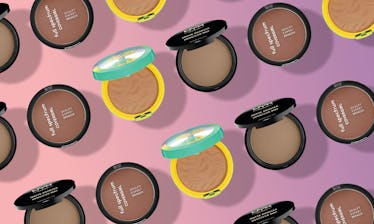 From Powders To Sticks To Creams, These Are The Best Bronzers For Every Skin Tone
Elite Daily/Amazon
When it comes to contouring your face or achieving an all-over-glow without the risk of sun exposure, bronzer is essential. That said, choosing the right bronzer can be tricky: some formulas lean way too orange, some are impossible to blend, and some contain way too much shimmer, which will be a disappointment for anyone who loves a matte look. That's why the definition of the best bronzer will vary for everyone — so before you get to shopping, try to figure out exactly what type of results you're hoping to achieve. Do you want a bronzer that's totally matte, or do you love a hint of sparkle? Are you interested in a traditional powder, or do you prefer a creamier, more moisturizing liquid formula? Whatever you're looking for, you'll find it ahead in this breakdown of the best bronzers on the market now. But first, a few bronzer tips and techniques.
Using bronzer in a way that looks natural concerns mainly two things: the shade you choose and the way you apply it. To add just the right amount of warmth to your face, you'll want to choose a bronzer that's one to two shades darker than your actual skin tone. Using a fluffy powder brush, swirl it in the bronzer in a circular motion to evenly cover the bristles, then gently tap it to get rid of any excess product. To make your bronzer look as natural as possible, apply it where the sunlight would normally hit your face (along your temples, cheekbones, jawline, and nose). However, you should apply a liquid bronzer or a stick formula with the same brush (or a BeautyBlender, or your fingers) you use for liquid foundation. With cream or liquid formulas specifically, you'll want to make sure your skin is nice and moisturized before application, otherwise blending might be more difficult.
Now that you're ready to get glowing, here are six of the best bronzers to buy now.