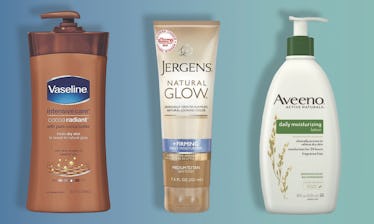 6 Great Body Moisturizers For Dry Skin, Body Acne, Eczema, & More
Amazon/Elite Daily
So much thought goes into the skin care products you use on your face, while the rest of your body often gets neglected. But your body needs daily attention, too, or you can end up with dryness, itchiness, and even uncomfortable bumps or flaky patches that are harder to cure. Luckily, the best body moisturizers on the market today have been formulated to treat just as wide a range of concerns as the products you put on your face.
Depending on your skin's needs — are you after general moisture, or are you trying to treat a condition like eczema or keratosis pilaris? — you'll want to be on the lookout for specific ingredients. But in general, a good body moisturizer should have combination of humectant, emollient, and occlusive ingredients to attract moisture, keep skin soft, and seal everything in.
For KP or body acne, try an exfoliating body lotion that contains BHAs or AHAs (like salicylic acid, lactic acid, or glycolic acid), which work to unclog pores and shed dead skin cells. If you have sensitive skin or a condition like eczema or psoriasis, look for a non-irritating and fragrance-free formula that treats itching and severe dryness.
Ahead, you'll find six of the best body lotions for dry skin, sensitive skin, eczema, and more.