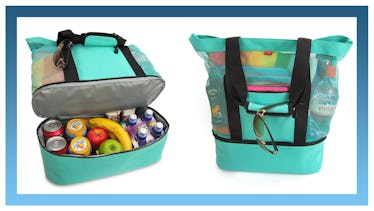 This $10 Beach Bag Has A Built-In Cooler (Plus, 5 Other Bags Reviewers Love)
Whether you're packing towels, books, sunscreen, chilled drinks, or all of the above, the best beach bags will carry and protect all of your essentials. When choosing one, you'll want to consider the bag's material, construction, and style.
Beach bags range in material, from lightweight mesh and nylon to super tough tarpaulin. While mesh and nylon may not be completely waterproof, they are both durable and water-resistant, making either material a great choice for those looking to relax by the water. However if you do engage in kayaking, hiking, or other rugged activities, a tarpaulin bag that's completely waterproof (and even floats on water) might be the most ideal.
Next, you'll want to consider the bag's construction — particularly the overall capacity as well as the amount of internal and exterior pockets. If you usually bring food or beverages, you'll want to find a bag with a waterproof cooler built-in (two of my picks below check off that box).
An additional factor to consider is the style. While backpacks may be the most easiest and comfortable to carry, a single strap bag can be more sleek and stylish in design. It depends on your own preference, how much you actually pack for the beach, and what kind of straps work best for you.
I researched and put together a list of the best beach bags below. My picks range in style and size but all were designed to keep your items safe and dry so you can relax and enjoy the beach.