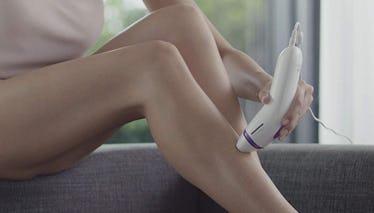 A Beginner's Guide To At-Home Laser Hair Removal -- Plus 6 Devices Amazon Users Swear By
An at-home hair removal device might be the right choice if you're tired of ingrown hairs, daily plucking and shaving, or have vowed never to go through the pain of waxing again. What will make one machine the best a- home laser hair removal device for you depends on your hair type, skin color, and the area you want to treat.
Most of the at home hair removal devices marked as lasers are actually IPL or intense pulse light devices. While both lasers and IPL use light to heat up the hair follicle, the type of light they emit is different, with laser emitting a more concentrated, and stronger beam. Both will slow down hair growth significantly, but generally, IPL technology will require more sessions to achieve results.
Some things you should know:
Most IPL hair removal devices have a set amount of flashes over their life span. If you're interested in treating larger areas, or know that your hair or skin type will require you to work at the lowest energy setting, you'll want a device with the most flashes.
Hair Color
Unfortunately, laser and IPL hair removal devices are not effective on all hair colors — blonde, reds, or white/gray hairs in particular are harder to target. Both types of treatments target the pigment in your hair follicle and if there's no color, there's nothing for the light emitted by the device to grab on to. Granted, some users with light hairs have seen results, though it takes many more sessions to see a difference.
Skin Tone
The higher the contrast between your hair and your skin color, the more effective at home laser hair removal is. Since lasers target pigment indiscriminately, including the melanin in skin, most aren't safe to use on darker skin tones, as they might result in burns and blistering. Laser and IPL device makers use the Fitzpatrick skin types to determine who can use their product safely. The scale made up of six classifications that describe skin color and inflammatory response to sunlight. For example, Type II is described as "Fair skin. Always burns, tans with difficulty."
Most devices are marketed for skin types I-IV, though we've included one that is recommended for all six types.
Now that you know what to look for, find the best at-home laser hair removal device for you, below.