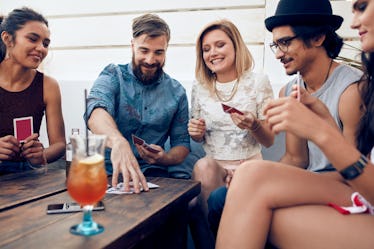 5 Cult-Favorite Cards Games On Amazon To Play At Your Next Get Together
Inexpensive, unpredictable, and likely to induce non-stop laughter, the most popular card games for adults are the perfect addition to any gathering. You can expect the best games to help break the ice with new friends and give old friends another reason to laugh until they cry.
Adult card games are gaining popularity — there are endless options to choose from — so it's important to know what qualities make them good. The main factors you'll see in the best card games for adults are simplicity, variation, and a flexible player range (for any sized group). You should be able to explain your game of choice in just a few sentences, and definitely opt for something with at least 100 cards to avoid repetition. The games on this list all work for three to four players, but most of them can actually handle up to 20 players (aka they're perfect if, like me, you come from a massive family).
So when you're ready to take that upcoming dinner party to the next level or play a rousing game with your family, these are five games that'll guarantee a laugh. Grab one — or five — to let the good times roll!