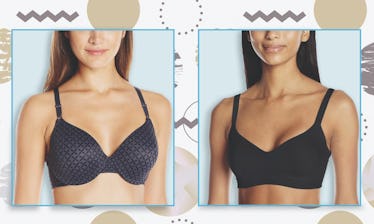 Amazon Reviewers Agree: These Are The Most Amazingly Comfortable Bras
Amazon/Elite Daily
Bras do a lot more than just support your boobs. The right ones can help improve your posture and your confidence, too. And while a supportive bra is essential, it's just as important that a bra feels good when you wear it. That's why getting the most comfortable bras is so important.
The first step to a comfortable bra fit is making sure it is sized properly. Your bra should be supportive of your breasts without the straps digging into your shoulders and the band squeezing deep into your back. A great bra should also cup your breasts without them spilling over the top or contorting them into awkward positions, but you should also not have to deal with too much jiggling or readjusting throughout the day.
The right material and style are also important. Look for fabrics that are breathable and not scratchy like quality cottons or nylons. You'll also have to decide if you want an underwire or not. Those with larger breasts especially might prefer the extra support, and many modern bras feature well-covered, flexible wires that move to suit your body, not the other way around so they don't have to be uncomfortable to wear.
If it's time to stop dreading putting on a bra in the morning, these best comfortable bras according to Amazon reviews.
This article was originally published on