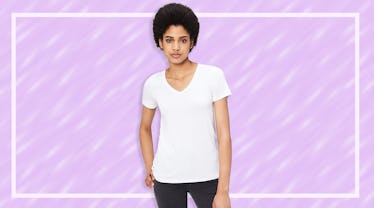 It's Official — These Are The Best White V-Necks You Can Buy On Amazon
Amazon/Elite Daily
Let's face it: It's the basics that can make or break an outfit. The wrong socks or undergarments can make for a seriously uncomfortable getup, but the wrong basic tee? That can ruin your whole day. Luckily, the best women's white V-neck T-shirts are comfy, functional, and complete any outfit.
Before you buy, you'll want to take into consideration the type of fabric a T-shirt is made from. While most cotton T-shirts are both soft and multifunctional, they don't always hold up well to long-term wear-and-tear. And, as anyone who has ever experienced a laundry disaster can attest: 100 percent cotton items are prone to shrinking in the dryer.
If you're planning on layering your tees, consider a spandex blend, which offers plenty of stretch and will stay snug even underneath a cozy sweater. And while modal is a relatively new fabric to the market, it hangs well, feels soft to the touch, and is lightweight and breathable. Bonus: It's also significantly less likely to shrink or pill when compared to your classic cotton tee.
Whichever way you go, investing in one of the best women's white V-neck T-shirts is a must-have basic for any wardrobe. Here's a round-up of some of the best tees out there to help you narrow down your options.