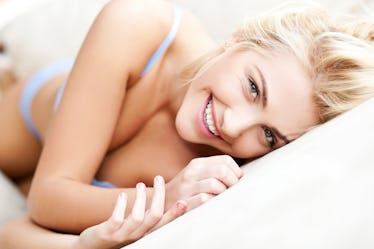 Cut The Cord With These 6 Powerful, Wireless Vibrators
Back in the day, before sex toy technology really took off, the majority of vibrators only worked if they were plugged into a wall. If you wanted to get yourself off, you had to locate an outlet (and possibly an extension cord) and stay tethered to that one spot through the entirety of your masturbation session. Though corded vibrators still exist, and are known to be pretty powerful, keeping one of the best wireless vibrators in your goodie drawer is crucial if you're looking for a toy you (or you and a partner) can writhe around with, travel with, or bring in the shower.
It's important to note that one person's favorite vibrator might not be another's, so don't just choose the first toy you come across. There are rabbit vibrators, wearable vibrators, wands ... the list goes on. But no matter what your sex toy preference is, you'll find the best in its category listed below.
Also, here's a fun tip. There's an easy trick to test if your new vibrator is powerful enough for you without using it on clit or in your vagina — a move that would likely render the toy ineligible for return. Turn the vibe on and place it on the tip of your nose. It's one of the only spots on your body that's as sensitive as your clit. If it feels powerful enough on your nose, you'll be good to go.
If you're ready to cut the cord, scroll on to discover five of the best wireless vibrators on the market.