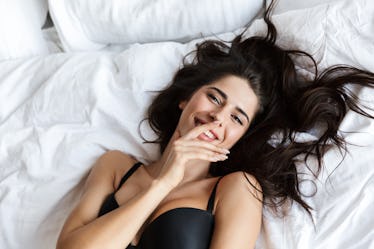 It's Official: These Are The 5 Best Vibrators For Women — & They're All On Amazon
Whether you're buying your first vibrator or looking to expand your existing collection, for plenty of women, the prospect of purchasing a new sex toy can be a daunting task. After all, there are so many options out there: different shapes, different sizes, and all those hi-tech bells and whistles. (Rabbit ears or something more realistic? Do you prefer G-spot stimulation, clitoral stimulation, or both?) But that's why I'm here to walk you through the best vibrators for women; just consider me your sexual fairy godmother.
The easiest way to figure out what you want in a vibrator is to start by figuring out what you like without a vibrator. Manual masturbation is a good way to explore whether you're more interested in clitoral stimulation, G-spot stimulation, or both. Once you have that figured out, you can get to buying. Sucking vibrators, for example, are great for clitoral stimulation, while minimal-looking dildo vibrators are perfect for pleasuring your G-spot. Then, there are rabbit vibrators, which are great for women who love simultaneous clitoral and G-spot stimulation.
Ahead, find five of the best vibrators for women that you can get delivered to your door in a matter of days.