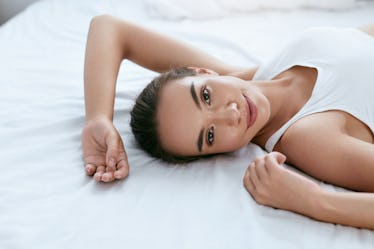 These Thrusting Vibrators Will Satisfy You In More Ways Than One
While most of us are familiar with vibrators because of their delightful buzzing capabilities, there are a few models on the market that take stimulation to the next level. I'm talking, of course, about thrusting vibrators. Not only do these toys vibrate, but they're also hooked up with gears and gadgets that mimic the thrusting motions of a penis, which offers a unique sensation that massages your G-spot in a smoother, gentler way. To help narrow down your search, find a handy guide to the best thrusting vibrators (that you can buy on Amazon, by the way), ahead.
You can typically identify a thrusting vibrator by the sort of ruched detailing it has on its shaft, which allows the vibrator to expand and contract in a pleasurable way. The important thing to remember is that a thrusting vibrator massages your G-spot (or your prostate, if you're inserting it into your anus). Most women can't get off on just G-spot stimulation alone, so if you're also in need of clitoral stimulation to get off, you can either manually masturbate or choose a thrusting vibrator that has an attachment that stimulates your clit.
Scroll on to discover five of the best vibrators that thrust.