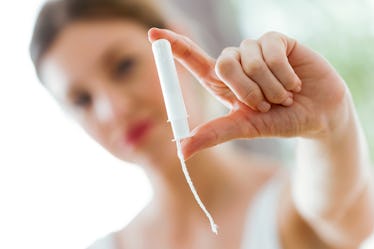 These Are The Best Tampons To Start With If You've Never Tried Them Before
fotolia/nenetus
Whether you've been using pads for years and you're ready for a change or you're just starting out, the best tampons for beginners make it super easy to make the switch.
When you're searching for a great starter tampon, the first thing to consider is overall comfort. As a first-timer, you'll want a product with a slim design and sleek applicator for easy insertion. But that's only half the battle. Once you have the tampon in place, you want to make sure that it stays in place. Be on the lookout for a tampon that expands, is leak-proof, and is comfortable throughout the day.
Before you buy, you may want to consider your individual cycle and lifestyle. Like pads, you'll want to find a tampon that matches your flow: light, regular, or super. But other than that, you also want to keep your daily schedule in mind. For example, if you tend to be on the go without very many breaks, you'll definitely want a tampon that will last for at least eight hours. Or if you know you'll still hit the gym during your period, be on the lookout for a sports tampon that will stay put.
When shopping, it can be tough to figure out the best option for your body and lifestyle. Here's a round-up of some of the best tampons for beginners out there to make the transition easy and comfortable.