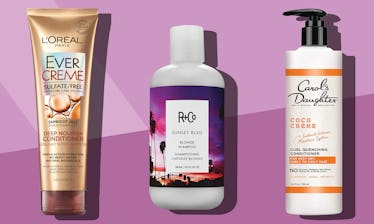 Got Dry Hair? Then You Need To Transition To One Of These Sulfate-Free Shampoos ASAP
Amazon/Bustle
If you have dry, chemically-processed, or color-treated hair, you should know that sulfates are essentially enemy number-one. Hiding in your shampoo's ingredients list with names like sodium lauryl sulfate and sodium laureth sulfate (or the sneaky acronyms SLS/SLES), sulfates are used to give shampoo a rich, foamy lather. But they're also pretty powerful chemicals that cut through grease and product buildup (good), which can be drying to your hair and compromise the condition of your expensive color treatments (bad). If sulfates have left you with less-than glossy locks, one of the best sulfate-free shampoos for dry hair can help you out.
It's easy to steer clear of sulfates in your shampoo once you know how to identify them, but it's still important to choose a sulfate-free option that's best suited for your hair type. Even more important is looking for nourishing ingredients, like panthenol, keratin, and oils like coconut, argan, and prickly pear, to reverse any existing dryness or damage.
Of course, sulfate-free shampoo alone won't fix dry hair. It's also important to check in on your styling routine to see if that could be contributing to the damage. Limit your use of hot styling tools like blow dryers, straighteners, and curling wands, always making sure to use the lowest heat setting you can and hitting your hair with a heat-protectant spray first.
Below, find five of the best sulfate-free shampoos for dry hair of all types and textures.