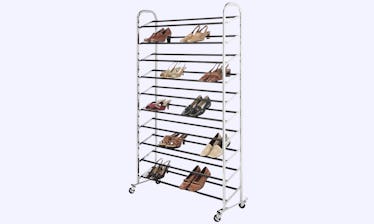 These Sturdy Shoe Racks Will Keep Your Collection Of Kicks Organized AF
Amazon/Elite Daily
There's nothing like a tidy room to make you feel more at ease, and this begins with not having miscellaneous shoes strewn all over your closet floor. To get organized, you'll want to invest in one of the best sturdy shoe racks that'll neatly hold all your shoes and make your life easier in the process.
When choosing a shoe rack, first consider the amount of space — and the amount of shoes — you have to work with. If you don't have a lot of space, a stackable option or over-the-door hanging rack are the best choices, as they'll take up the least amount of room. If you're more concerned about the look or function, opt for a shoe storage solution that doubles as a piece of furniture or a heavy-duty rack that's able to hold a lot of weight.
To help you decide between all the different shoe organizers out there, I've compiled a list of the best sturdy shoe racks available on Amazon. All these options are stable and built to last, so you won't have to worry about flimsy materials folding under the weight of your favorite kicks. Browse my picks, below, and you'll never have to spend another moment digging to find that missing shoe.