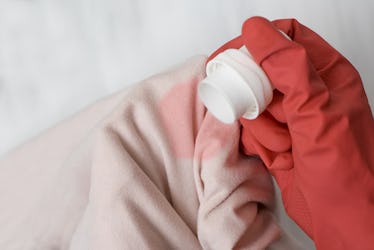 Save Your Clothes From Stains With These Powerful, Spot-Removing Cleaners
fotolia/somemeans
Whether from wine, grass, or grease, clothing stains happen to the best of us. When they do, the best spot removers for clothes can aid in lifting stains away. For best results, take action as quickly as possible after a stain occurs. If the garment's fabric is machine washable, treat the stain and then immediately run it through a wash cycle. However, if you're not able to launder right away, using a stain-removing spray and letting it soak in might be the next best course of action. Portable options like pens and wipes make it easier to tackle stains when you're away from home.
A few words of caution: Before attempting to remove any spots or stains, make sure to read the garment's care label. You will also want to be extra cautious when using a stain remover on wool, silk, or leather. You may be better off taking those types of clothes to get professionally dry-cleaned instead.
Regardless of the fabric, it never hurts to test a stain remover on a small or inconspicuous area of a garment first, before proceeding to treat a larger stain, since you never know how the fibers or dye will react to the chemicals in spot-removing products.
With that said, take a look at the best spot removers for clothes below.