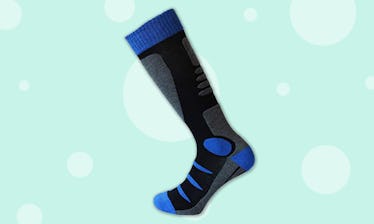 These Are The Best Socks For Snowboarding — And You Can Find Them On Amazon
While they'll cost you a bit more than your everyday cotton socks, the best snowboard socks are worth every penny; made with high-quality materials and superior construction, they'll keep your feet warm, dry, and cozy all day long.
Although it may seem counterintuitive, your snowboarding socks should be thin and sleek. Thicker socks will actually make you colder by letting moisture build up, and they also tend to bunch up more, which is a recipe for blisters and chafing.
A proper fit is equally important. Your socks should be tall enough to reach the top of your boots so you don't have to tuck your base layers inside. They also need to be snug — once you're on the hill, you won't be able to pull them up if they start sliding down.
Lastly, the material should be moisture-wicking and breathable. Your feet are going to get sweaty, so the more moisture you can transport away from your skin, the quicker the material will dry. Look for materials like nylon, polyester, and spandex, and try to avoid cotton, which absorbs moisture and is slow to dry.
To help you find the best socks for the slopes, I've put together a list of some great options that will keep you warm and comfortable from your first run of the day to your last.