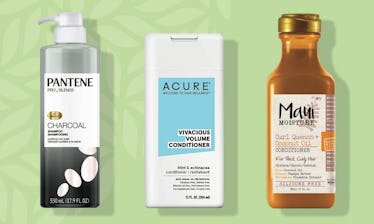 5 Of The Best Moisturizing Conditioners That Don't Contain Silicones
Elite Daily/Amazon
If you keep a close watch on the ingredients you put on your face, it's time to turn your attention to your hair-care products. While ingredients that can compromise your hair's health aren't always as obvious as an ingredient that doesn't agree with your face, it doesn't mean you aren't potentially causing damage in the long run. In addition to cutting back on shampoos that contain sulfates, using one of the best silicone-free conditioners can also help you achieve healthier hair. Despite the instantaneous benefits of detangling and smoothing, silicones can cause buildup on the hair shaft over time, causing dryness and dull-looking hair that feels heavy and weighed down.
To remedy damage that's already been done, it's a good idea to invest in a clarifying shampoo to thoroughly remove silicone buildup from previous conditioners and styling products you might have used. Then, start looking for a conditioner that's silicone-free — starting with this guide below. According to Self, the most common silicones you'll find in your conditioner include dimethicone (and any variation of the word), cyclomethicone, cyclopentasiloxane, and phenyl trimethicone. Basically, if the ingredient in question ends in "-cone," it's a silicone.
But you don't even have to worry about all that, because the work has already been done for you. Scroll on for five of the best silicone-free conditioners you can buy for any budget.