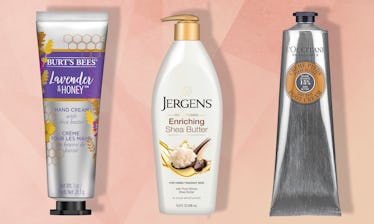 These Rich Shea Butter Lotions Are Here To Save Your Skin This Fall
Elite Daily/Amazon
When it comes to keeping your skin moisturized and soft, there are few more reliable ingredients than shea butter. Trendy ingredients may come and go, but shea butter has remained a skin care mainstay over the years for a reason. But because it is such a popular ingredient, it can be hard to figure out the best shea butter lotion to use to really benefit from its nourishing abilities. That said, whether you're looking for a face cream or foot lotion, you can't go wrong with any of the five top-notch moisturizers on this list that use shea butter as their star ingredient.
If you're interested in using a shea butter lotion to treat dry skin on your face or body, always aim to apply it on damp skin — so ideally, immediately after washing your face or showering. This is because damp skin absorbs moisture better, so it helps your moisturizer work more effectively. To amplify the effects of your shea butter foot cream, apply it before bed; then, slip on a pair of thick socks to really lock in moisture — consider buying a pair of moisturizing socks to take things to the next level. If you're extra, you can do the same thing with your hands, only put on a pair of moisturizing gloves instead of socks.
Regardless of how you choose to apply your shea butter lotion, just about any skin type can benefit from this miracle moisturizing ingredient. Scroll on for the five best shea butter moisturizers to keep your skin soft from head to toe.