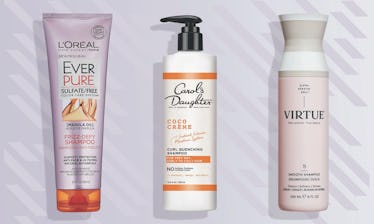 5 Frizz-Fighting Shampoos For Smoother, More Moisturized Hair
Elite Daily/Amazon
When it comes to frustrating hair moments, nothing hits quite as hard as when you've taken the time to style your hair straight only for waves to slowly set. (The same can be said for defined curls that wind up surrounded by a frizzy halo.) Like most hair conundrums, there are multiple causes behind your hair not cooperating. But the first step to solving hair that won't stay smooth happens in the shower. To give your hair a fighting chance against static and frizz, you need to start by using one of the best shampoos for frizzy hair.
Whether your hair is curly, straight, or somewhere in between, frizz can interrupt your finished style for a number of reasons. The most common cause behind frizz is that your hair is lacking moisture. This could be the result of not using a shampoo/conditioner that's hydrating enough, or, because you tend to over-work your hair with heat styling tools. Unsurprisingly, the weather is another major factor that can cause frizzy hair, as anyone who has ever experienced a humid day can attest that the higher the humidity level, the puffier your hair will be. This all comes back to your hair being dry, which causes the outer layer of your hair to draw in moisture from the humid air and swell, which translates to frizz.
Because washing your hair is the foundation of your routine, choosing a shampoo that doesn't strip your hair of moisture is essential when it comes to minimizing frizz throughout the day. This means finding a shampoo that contains hydrating ingredients (like coconut oil, for example), but it also means avoiding cleansing agents, like sulfates, which can strip your hair of its natural oils and therefore make your hair more dry.
Additionally, you can help prevent dryness and frizz by avoiding too-hot water when washing your hair, cutting back on heat styling, letting your hair air dry as much as possible (and using a microfiber towel when you need a little extra help), and incorporating products that moisturize your hair, like argan oil, into your styling routine.
And now, scroll on for five of the best shampoos for frizzy hair and flyaways.