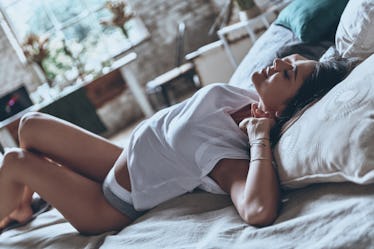 The Best Wedges & Pillows To Make Sex More Comfortable — & They're All On Amazon
ShutterStock
If you've finally given up the idea that sex pillows are just another unnecessary sex-cessory, congratulations! You're about to unlock a whole new world of sex positions. "Sex pillows provide easier, more satisfying sex," explains Annabelle Knight, a sexpert for Lovehoney, with whom I spoke for this article. "They help make sure that every base is covered, from ensuring their cushions provide ample, reliable support [for] two bodies in motion, to making sure cleanup is hassle free." All you need is one of the best sex pillows to start you on your journey, and luckily, you can find a great selection right on Amazon.
But what should you be looking for in a sex pillow? Well, it depends on what you're using it for. According to Knight, taller pillows are great for doggy style, because "they support the receiving partners hips and torso, and lift their behind into prime position for entry." For a T-bone position (when the receiver is laying on their side, and the giver is thrusting into them in a similar position to missionary), a wedge or ramp-style pillow is ideal. "In this position, the ramp supports the giver, while the wedge lifts the receiver."
That said, you don't necessarily need to shop for a pillow based solely on the positions you use them for. Pillows are so incredibly versatile that you'll always be able to find new ways to use them. "The perfect sex pillow will not only depend on you and your partner's position preferences, but also, some pillow shapes and sizes may feel better, depending on the height of you and your partner," says Knight. In short, it might take some trial and error before finding the perfect pillow for you.
With Knight's guidance, I've rounded up the best sex pillows on Amazon, ahead, so you can upgrade your sex life with just one click.