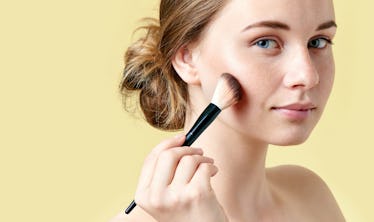 If You Have Combination Skin, These Are The Best Setting Powders To Use
If you've got combination skin, you know how difficult it can be to make sure your makeup sticks all day long. Since your T-zone tends to be oily, and your cheeks tend to get dry, it's hard to find a do-it-all foundation that works for your full face. By investing in one of the best setting powders for combination skin, however, you can bypass this problem, since they help absorb the grease from your makeup so it stays on all day.
When shopping for the right setting powder for combination skin, there are a few things you want to look out for. Since your face isn't overly greasy, stay away from powders that feel extra chalky or heavy, as they can lead to pilling. And if your cheeks feel like they don't need powder, feel free to skip. You don't necessarily need to use this stuff on your full face, which is why you want to look for powders that are as translucent as possible. That way, everything will blend beautifully.
Luckily, all of the products on this list of the best setting powders for combination skin pass these criteria with flying colors. So if you're in the market for a miracle-worker to set your makeup, scroll on.