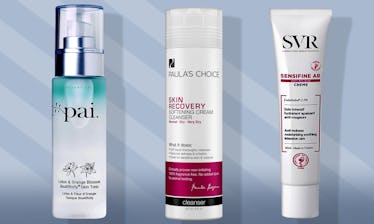 These Are The Best Skin Care Products To Use If You Have Rosacea
Amazon/Bustle
While most people think of rosacea as a persistent redness of the skin, it can also result in rough texture, acne-like breakouts, and general swelling on the face. When there are so many potential irritants in skin care products — like artificial dyes and fragrances — it's important to use only the best products for rosacea that won't inflame your pre-existing condition.
A balanced beauty routine addresses skin concerns through multiple channels. For example, a cleanser that's best-suited for rosacea-prone skin might not be enough on its own. Finding supplemental products like toners, moisturizers, and creams will allow you to build a comprehensive skin care ritual that'll calm current flare-ups and keep potential irritation at bay. The best products for rosacea will be free of artificial scents and coloring and should also include calming, soothing ingredients that'll help alleviate persistent symptoms like redness, dryness, flaky skin, itchy bumps, and acne. But they should also help repair your skin's natural protective barrier, maintain its moisture levels, and keep your complexion clear, calm, and healthy, even in the worst months of winter.
Whether you've got a mild case of rosacea that leaves you with too-rosy cheeks or you're suffering from same major chapping that you wish would go away, this list contains five of the best skin care products for treating both of those issues and more.