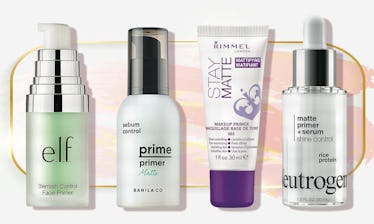 A Guide To Choosing The Right Primer When You Have Combination Skin
Elite Daily/Amazon
If you're reading this, you probably already know that primers deserve a place in your everyday makeup routine. Finding one that works for combination skin isn't as hard as you might think — it just requires a bit of research. Or, you can simply choose from this list of the the best primers for combination skin, as they've already been pre-vetted by editors to work for this finicky, but extremely common skin type.
When you're looking for a primer for combination skin, choose a non-comedogenic formula to keep your oily areas clear of acne-causing bacteria. Non-comedogenic formulas also tend to be more breathable, so they'll feel comfortable on dry skin — a welcome change from hardcore mattifying primers, whose heavy formulations can make your skin feel a little claustrophobic.
But using a primer effectively on combination skin mostly comes down to being mindful about what you want your primer to do, and tailoring the rest of your skin care routine around it. If you're prepping your skin for makeup, concentrate a lightweight primer on your oil-prone T-zone, then use a very light touch on your drier cheeks and chin. Alternatively, you can target-treat your skin by applying a mattifying or pore-filling primer only where it's needed. And always precede your primer with a double-dose of hydration on your dry areas. As someone with combination skin, I like using a balancing facial oil all over my face, then following it up with a moisturizer for combination skin wherever it feels extra dry.
With that primer in mind (sorry, I had to), take a look at five of the best primers for combination skin, ahead.