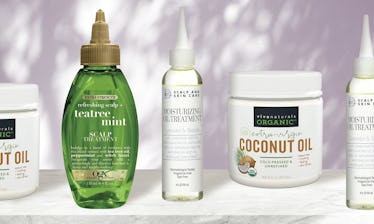 5 Oil Treatments That Will Make Your Dry Scalp Feel Moisturized AF
Amazon / Bustle
If your scalp is prone to dryness, you know it can be a struggle to find products that provide relief without weighing down your strands. Luckily, the best oils for dry scalps provide plenty of hydration without excess greasiness. Many products that are designed specifically for dry scalps use a blend of oils so that you can reap their different benefits all at once. When selecting products, look for ingredients like antioxidant-rich argan oil, marula oil, lavender oil, and coconut oil, which can be moisturizing for your scalp.
If your dry scalp causes discomfort, look for ingredients that address your concerns. An itchy scalp can benefit from ingredients like peppermint oil, which is cooling and soothing to help relieve irritation, or inflammation-reducing lavender oil. To remove residue or buildup, opt for a treatment with tea tree oil. And if you notice that you have flakey patches on your scalp, consider an oil treatment with ingredients that help to exfoliate, like salicylic acid. Note that if your chosen treatment does include essential oils, it could cause irritation for some, so you may want to patch test before using.
If you'd rather try a scalp oil without all the extra ingredients, some people with dry scalps stand by pure argan oil or coconut oil — just be sure to not use too much in one application since you may find that they can make your scalp a bit greasy.
Finally, as a general rule, people with dry scalps should avoid using any products on their heads that have sulfates, which can strip away natural oils, only worsening the issue. You won't find any sulfates on this list — but what you will find are five products that are a dry scalp's best friend, since they contain oils to combat dryness, itchiness, and flakiness. Tried and true on Amazon, these picks all get the stamp of approval from reviewers.
We only recommend products we love and that we think you will, too. We may receive a portion of sales from products purchased from this article, which was written by our Commerce team.