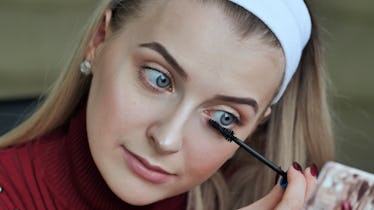 Get Volume And Length Without The Clumps With These Fan-Favorite Mascaras
Довидович Михаил/Fotolia
Mascara can be integral to makeup looks from easy, no-makeup makeup days to dramatic, statement looks. But even the most expensive mascara can be plagued by a common problem: clumps. Mascara formulas work by coating and extending lashes, which too often means they can make lashes look brittle and spidery while also leaving behind clumps of dried formula. But you don't have to despair: It is possible to find the best non-clumping mascara, no matter what your needs are.
As it turns out, the key to non-clumpy lashes isn't the formula, it's the wand. Many popular non-clumping mascaras feature molded plastic or comb-like wands that keep lashes separated as you apply. On the other hand, traditional bristled brushes can lead to less lash separation and more clumping.
Some people also find waterproof mascaras are more likely to clump, so if you have watery eyes, live in humid conditions, or are watching a heart-wrenching movie, you may want to stick to a tubing mascara which creates a water-resistant film outside each lash rather than just covering them with pigment.
If you crave even more separation, try wiggling your wand gently at the base of your lashes. And remember, even the nicest mascaras will dry out, and most experts recommend replacing mascara every three months to avoid infections, so replace your tubes regularly. This has the added benefit of keeping your mascara formula fresh and clump-free as well.
From an under-the-radar Japanese waterproof tubing mascara to a drugstore favorite for just $5, these are the best non-clumping mascaras for every look.