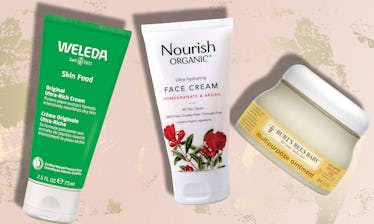 Treat Your Dry Skin To These Luxurious Natural Moisturizers Made With Clean Ingredients
Amazon/Bustle
Dry skin is a lot harder to treat than you'd think. Sure, slathering on a heavy moisturizer sounds like it should work, but sometimes those rich creams contain ingredients that can actually make dry skin worse. Whether you naturally have skin that's on the drier side or you're just going through a bit of a rough patch (literally) because of seasonal changes or a recent skin care treatment, swapping your go-to face cream for one of the best natural moisturizers for dry skin can make all of the difference.
Of course, deciding to go natural comes with its own complications. Finding a natural moisturizer that's actually legit can be frustrating largely because the FDA doesn't have any regulations when it comes to slapping the word "natural" on a beauty product. Instead, look for certifications from the USDA, Ecocert, The Soil Association, NATRUE, or the EWG to ensure your products are as pure as possible. You can also do a little sleuthing of your own through the ingredient list, keeping an eye out for questionable additions and common irritants like parabens, phthalates, propylene and butylene glycol, petrochemicals, sulfates, artificial dyes, and synthetic fragrances.
Now that you know what's bad for your skin, let's get into the good stuff. Dry skin can be more sensitive to irritation, so look for a combination of gentle hydrating ingredients in the formula. Humectants like aloe vera, hyaluronic acid, and glycerol all work to draw more moisture to the skin, while nourishers like shea butter, jojoba oil, and grape seed oil will help keep your face moisturized and soft.
Ahead, find five of the best all-natural moisturizers for dry skin on the market.