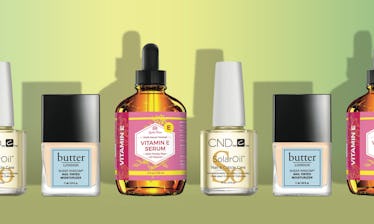 These Top 5 Nail Moisturizers Are Like Facials For Your Hands
Elite Daily/Amazon
As much time as you put into thinking about your next manicure, you probably rarely (if ever) give the same attention to your actual nail health. But just like your skin and hair, your nails are made up of layers of keratin that can become damaged from things like overexposure to water, harsh weather, acetone-based nail polish, or removing gel manicures improperly. With the help of the best nail moisturizers, however, you can repair current damage and protect your nails from turning weak and brittle in the future.
You can help ensure your nails and cuticles stay smooth with a variety of different types of products, but one of the best ingredients to look for is vitamin E, which is a particular superstar when it comes to nail health, since it not only moisturizes your skin and nails, but can also help treat yellow nail syndrome. Other nutrient-rich ingredients that help moisturize and protect your cuticles, hands, and nails are jojoba and sweet almond oils.
You'll also want to help prevent your nails from drying out in the first place by cutting back on gel manicures (and making sure to have them properly removed when you do get them), steering clear of drying ingredients like formaldehyde in nail polish, and avoiding using nail polish remover that contains acetone.
Whether you're in need of a concentrated formula for your cuticles, something your whole nail plate can benefit from, or an all-over hit of hydration for your hands, these are the best nail moisturizers to try.