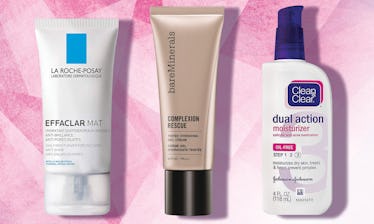 These Are The 5 Best Moisturizers For People With Oily, Acne-Prone Skin
Elite Daily/Amazon
As if having oily skin wasn't hard enough to manage on its own, where shine shows up, acne is usually soon to follow. Piecing together a targeted regimen to keep oily, acne-prone skin in check can be complicated, but it all starts with finding a solid moisturizer. But you do need to be choosey on your hunt for the best moisturizers for oily, acne-prone skin to ensure you aren't using anything that contains pore-clogging ingredients that might make breakouts worse.
As a general rule of thumb, you'll want to look for a moisturizer with a lightweight, oil-free formula that's noncomedogenic. More specifically, you can look for key ingredients that target oil and acne-causing bacteria, like salicylic acid. SA is popular for treating acne because of its ability to cut through oil and clear out pores of any dirt and dead skin that can lead to breakouts.
Other useful ingredients to look for include willow herb extract, pomegranate extract, and witch hazel, as they all contain natural astringent properties that work to tighten and decongest pores. Then, there are moisturizers that contain mattifying ingredients like zinc and silica, which help balance oily skin by regulating sebum production. Mattifying moisturizers will be especially good for anyone who tends to get shiny throughout the day.
Check out five of the best moisturizers for oily, acne-prone skin, below.