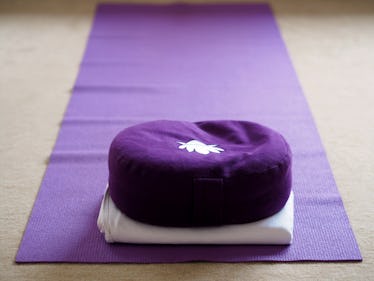 These Meditation Pillows Are The Key To Keeping You (& Your Mind) Grounded During Your Practice
Shutterstock
You could probably use any cushion laying around you home to help you get into a zen space, but the best meditation pillows are designed to better support your spine and will have the proper height and width needed to take any pressure off your hips and knees. Which shape you go with will depend on your personal preferences, but they will all be made from high-quality, natural materials. Bonus points if the filling is removable, so you can customize the level of firmness.
Kapok Vs. Buckwheat Hull Filling
When you start browsing for a meditation cushion (which are often referred to as zafus) you'll find that the type of filling material used will give you the best indication of how rigid it is— this is an important factor because the pillow should help you maintain the proper sitting posture no matter how long your session goes. Kapok, which is a cotton-like filler, will give you a somewhat fluffier surface, but it has a higher chance of flattening out after extended use. Alternatively, buckwheat hull filling — which comes from the outer shell of the grain— may feel a little more stable (sort of like sitting on sand), though some may find it makes the cushion too bulky. Still, the biggest advantage of hull-stuffed seats is that they are often come with an opening that lets you add or remove some so that you can readjust to your liking.
Meditation Pillow Shape & Size
The most traditional zafu shape is round, but for even more tripod support — especially for your hips and back— a crescent style may suit you more. And if you're cross-legged practice often takes place on a hardwood surface, you can always use a foldable cushion or put a flatter zabuton mat underneath your zafu to further cradle your legs and feet.
Finally, a zafu's comfort can come down to its size, so pay attention to its diameter before purchasing. It should be big enough to fit most of your bottom, or at the very least, feel supportive under your hip joints.
Wit that said, the best meditation cushions below give you the foundation you need to keep your mind focused and your body aligned.
We only recommend products we love and that we think you will, too. We may receive a portion of sales from products purchased from this article, which was written by our Commerce team.