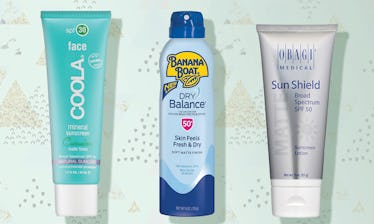 These Mattifying Sunscreens Are Lightweight, Non-Greasy, & Perfect For Oily Skin
Elite Daily/Amazon
Everyone knows the importance of wearing sunscreen on a daily basis — but on the downside, most of your standard sunscreen formulas tend to grease up your face. If you have oily skin, are prone to breakouts, or simply hate the feel of a slick, shiny face, you're going to want to pick up one of the best matte sunscreens from the list ahead.
If your skin is relatively unfussy and you simply prefer a non-shiny finish, just about any sunscreen that says it's mattifying will do. But if your primary reason for seeking out a matte sunscreen is to keep oily skin under control or to prevent breakouts, you'll need to be more particular with your SPF choice. A formula that notes it's non-comedogenic is a good place to start — which means it won't clog your pores — but you'll also want something that's oil-free and oxybenzone-free (oxybenzone is a commonly used UV-protecting ingredient that can cause breakouts and irritation). This list of ingredients to avoid is also helpful if you have sensitive skin in addition to being oily.
Whether you plan on sitting out at the beach or you're looking for a day-to-day formula for all-year wear, these are the best mattifying sunscreens to keep your face (and body!) protected.