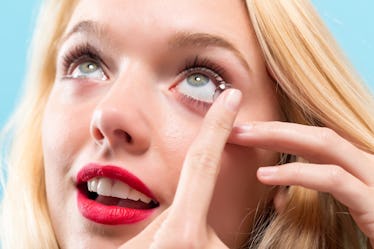 Contact Wearers, Switching To One Of These Mascaras Will Make Your Eyes So Happy
Whether you wear contacts or struggle with sensitive eyes, you're probably all too familiar with the downside of wearing some mascaras — yep, red, irritated eyes. And when you're dealing with eye discomfort, not to mention looking like you may or may not have just cried your eyes out, it doesn't matter how luscious your lashes are, the net effect just isn't great. But the best mascaras for contact lens wearers have less irritating formulas that still add major volume and length.
So, how do you know if a mascara is going to pass the contact test? To start, look for products that are hypoallergenic, meaning they are less likely to cause allergic reactions. It's also a good idea to use a mascara that's been ophthalmologist tested. From there, many contact lens wearers swear by natural mascaras that have fewer harsh ingredients. And to avoid bothersome clumps and flakes, mascaras with tubing technology could be the answer.
That said, sometimes finding the right mascara also means knowing what to avoid. Steer clear of fiber mascaras at all costs! Yes, they can add desirable length, but in the process they can flake irritable dust into your eyes. Also avoid waterproof mascara, which is usually hard (if not impossible) to wash off with just soap and water, and may stain your contact lenses.
Last but not least, one of the best things you can do for your eyes is to replace your mascara every three months. That's because several studies have found that bacteria can build up in the tube and on the wand. So, even though you might still have plenty of formula left to use, it's best to keep your mascara fresh to prevent infections.
With all of that in mind, it's time to find the right mascara for you. The options below have all received rave reviews on Amazon from contact lens wearers and have a high star rating to prove it.