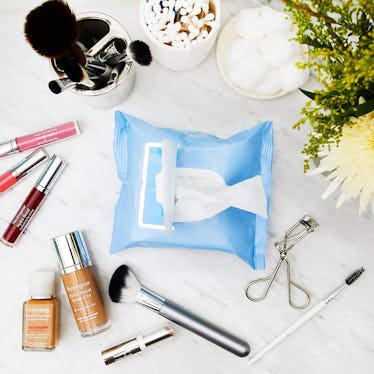 The 5 Best Makeup Remover Wipes For Taking Off Liquid Lipstick & Waterproof Mascara
Although there's been a lot said about makeup remover wipes and how they might not be the best thing for your skin, let's face it — they're seriously convenient in a pinch. When you come home from a long day (or night) and just want to go to sleep, makeup wipes will never let you down. But not every wipe is created equal, and some are better than others — it all just comes down to being able to differentiate the best makeup remover wipes from the lesser-quality, more potentially irritating ones.
One of the more important things to do is ensure that the wipes that you're using are made from cotton. Ideally, they should also be free of alcohol and any synthetic fragrances.
If you're going to use makeup wipes as a part of your cleansing routine, it's a good idea to use them as the first step, to take off stubborn makeup like waterproof mascara and liquid lipstick. But since they tend to leave residue behind, you'll want to follow up with a cleanser. Since wipes don't provide a proper cleanse on their own, your pores could wind up staying clogged with dirt and oil from throughout the day.
Ahead, find five of the best face wipes for different skin types.