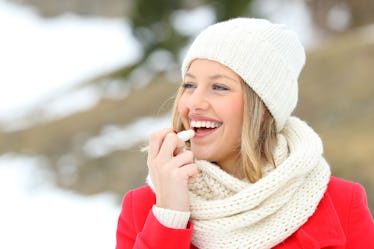 These Chapped-Lip Treatments Will Finally Put An End To Your Suffering
Whether it's from the cold air, a lack of humidity in your apartment, or even a persistent lip-licking, dry, cracked lips are an uncomfortable ailment that affects too many of us. Though it isn't exactly easy to revert your lips to the soft, cushiony pillows they once were, it isn't impossible. All you need to invest in one of the best lip treatments for dry, peeling lips that actually work.
This doesn't mean just any old lip balm will do the trick. If your lips are to the point where they're cracked and peeling, it's time to consider a thicker, more heavy-duty treatment. In other words, you want to find a formula that mimics the ingredients list you'd see on a moisturizer for dry skin. Ceramides, shea butter, and antioxidants, which help rebuild your skin's lipid layer, will be ideal, because that's what you want to achieve here — you want to heal as well as moisturize. You might also want to consider investing in a humidifier to increase the moisture in the air as you sleep, especially if you frequently wake up with very dry, dehydrated-feeling lips. And using a lip scrub, which you can buy or make on your own at home, will help eliminate flakes and reduce peeling, which also makes it easier for your treatments to penetrate (and therefore, heal) your skin.
Luckily, there are a few products out there capable of transforming your lips from dry and flaky to smooth and soft. From overnight masks and tinted balms to SPF-infused formulas and classic drugstore picks, you'll find all of the very best lip treatments, below.