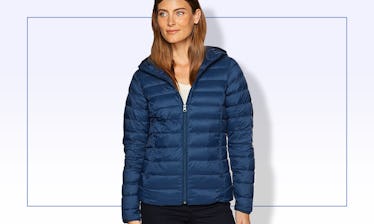 Bundle Up — But Not *Too* Much — With These Lightweight Down Jackets
Amazon/Elite Daily
When the weather changes between seasons, it can be tough to find a go-to jacket that offers the perfect mix of warmth and breathability. But choosing one of the best lightweight down jackets on the market will solve this problem. They're insulated — but not too heavy — so they'll always keep you at a comfortable temperature.
Down jackets, by definition, have warm, insulated interiors that keep you warm in the winter, but many brands have also come out with thinner down jackets that are made to wear in those in-between seasons. Even better, these lighter options double as some of the best travel jackets because they're bulk-free and easy to pack. Another plus is that down jackets come available in a variety of styles, from hooded to hoodless and long or short. Naturally, you can get them in lots of wearable colors, too.
To help inform your choice, I've compiled a list of the best lightweight down jackets. Here, you'll find a mix of styles including different fabrics and features. And though down tends to be pricier, I've also included a range of prices to fit any budget. Take your pick, below, and get ready to enjoy your versatile piece of outerwear year-round, especially as the weather cools down.
This article was originally published on