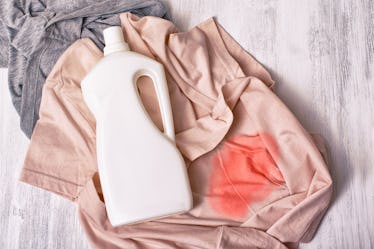 These Powerful Detergents Can Tackle Nearly Any Stain — & They're Laundry Day Game-Changers
fotolia/ somemeans
When dealing with tricky stains, having the right spot removers and laundry detergents on hand is essential. That's because, as a rule, the faster you treat them the better chance your clothes will emerge from your washer-dryer stain free. So, if you're ready to stock up on the best laundry detergents for stains, then you've come to the right place.
What makes for a good detergent for spots and stains? First, most will feature stain-fighting ingredients specifically in their formulas. Far and away, the best laundry detergents for fighting difficult stains are made by Tide. Their 'Tide Plus' line of detergents has a few stand-out options for fighting stains, and some that take it one step further to eliminate those, let's say, unpleasant odors that come with set-in stains.
However, for the most cost-effective solution you're better off with a non-name-brand stain-fighting detergent. And, if you know you are prone to sensitivity when your detergent has excess chemicals or fragrances, opt for an all-natural detergent that's hypoallergenic and fragrance free.
Keep in mind that some set-in stains won't come out with a simple detergent. With dry or hardened stains, you should really be pre-treating your clothes with a concentrated stain remover before you put them in the washer. But, don't stress, you'll find some great pre-treating solutions for truly tough stains below, as well.
Let's get to it. Below, the best laundry detergents for stains.