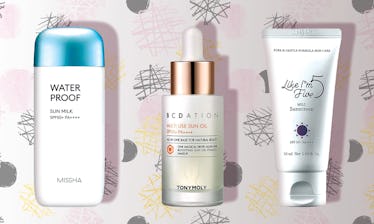 Protect Your Skin The Korean Way With These Game-Changing Sunscreens For Dry Skin
Elite Daily/Amazon
In the world of Korean beauty, the quest for hydrated, glowing skin never ends — and the skin-care products reflect that. From a very young age, Korean girls are taught to moisturize their skin daily and shield it from the sun, since this, of course, is the key to that healthy, radiant, much-sought-after glow. That's why, if you have dry skin and are looking for a sunscreen that's heavy on the hydration, going the K-beauty route is a wise choice. And luckily, you can snag many of the best Korean sunscreens for dry skin right on Amazon.
Just remember, Asian sunscreens sometimes use a slightly different method for measuring sun protection. While the SPF rating is the same — the SPF, which typically ranges between 15 to 100, identifies the amount of UVB rays the product blocks — Asian sunscreens also include a separate system that measures the amount of UVA protection: PA+ means it provides the lowest amount of UVA protection, while PA++++ provides the highest. All of the products on this list have a high SPF of 50, and a PA rating of between +++ and ++++, so no matter which one you choose, you'll be properly protected.
Whether your skin is dry and hyper-sensitive, you love a lightweight, water-gel formula, or you're looking for something else entirely (how about a multiuse sun oil you can mix in to other products?), you'll find a selection of the best, most unique sunscreens for dry skin ahead. Scroll on to discover five Korean formulas that'll revolutionize your sun protection game.