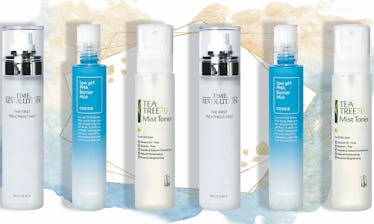 The One Korean Beauty Product That's Probably Missing From Your Skin Care Routine
Amazon/Elite Daily
Whether you're traveling, in need of a mid-day refresh, or prepping your face for the rest of your skin care routine, face mists have a ton of uses. And though hydrating mists from brands like Evian and Avène have long been the go-to choice for many, Korean beauty brands have packaged some impressively nourishing formulas in these nifty little spray bottles. The best Korean face mists do much more than temporarily hydrate your skin; some tone, others brighten, and many are loaded with nutrient-rich ingredients and vitamins that rival those found in your favorite serums and creams.
To get the most out of your face mist, you'll typically want to apply it on your skin after cleansing and before moisturizing. Applying moisturizer on a damp face is recommended since the moisture helps the product absorb better, which makes face mist a step you should rethink skipping. There are a few exceptions to this rule, however — usually with mists that set makeup, contain SPF, or are formulated to lock in your other skin care products — so make sure to read the directions first.
Below, you'll find five great Korean face mists to incorporate into your beauty routine, from toning and brightening formulas to acne-fighting sprays and skin barrier-strengtheners.