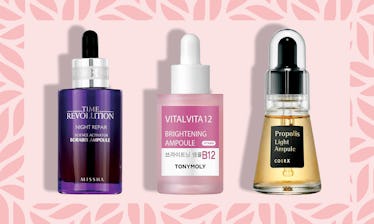 5 Game-Changing Korean Ampoules To Treat Every Imaginable Skin Concern
Amazon/Bustle
In the multi-step Korean beauty skin care routine, using an ampoule is essential. The skin boosters are similar to serums but contain a higher concentration of active ingredients, meaning they work faster to soothe dry skin, banish breakouts, and make dull skin glow. Finding the best Korean ampoules for your routine comes down to deciphering what your skin is thirsty for, then working it into your routine.
If you're interested in using an ampoule to treat dry skin, look for a formula that includes hyaluronic acid or propolis, a K-beauty favorite ingredient often found in serums and sheet masks. Propolis is particularly useful when it comes to repairing and soothing skin because it has wound-healing properties and helps accelerate skin cell turnover. But if brightening lackluster skin is your main goal, choose something that contains vitamin C or vitamin B12, which can help prevent pigmentation and dark spots. You can also use an ampoule to help treat acne. Just look for a product with centella asiatica, a common ingredient found in ampoules because it naturally helps regulate oil production and calm inflammation without drying out or irritating skin.
No matter which ampoule you choose, you'll want to use two to three drops after cleansing and toning, in place of your daily serum. But, because the formula is so concentrated, you don't need to make ampoules a part of your regular skin care routine. Instead, when you notice an issue arising, try using your ampoule nightly for several weeks, or until you notice your skin has calmed down.
The next time you want to supercharge your skin care routine, turn to one of the best Korean ampoules on this list.