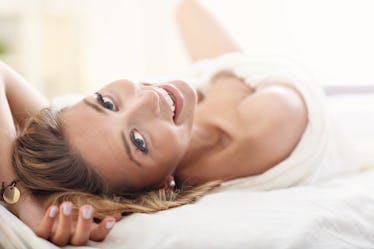 This Is The Easiest (& Most Enjoyable) Way To Do Your Kegel Exercises
If you're reading this article, you're probably already familiar with the benefits of kegel exercises. They primarily work to strengthen your pelvic floor muscles, which are responsible for keeping your organs in place. Not only can doing your kegel exercises help prevent urinary incontinence, but it can also promote better orgasms. Even better, by using one of the best kegel exercisers, you can work out your plevic floor muscles and simultaneously enjoy some added stimulation.
According to the University of Rochester's School of Medicine and Dentistry, doing kegel exercises with a full bladder can actually weaken your pelvic floor muscles, so you want to make sure you've emptied your bladder before doing them. You might also want to consider using lube to prevent irritation, just like you would with your average vibrator.
Kegel exercisers typically come in the form of vibrators, weights, or vibrator-like devices. Though you can certainly do your pelvic floor exercises on your own — check out Harvard Medical School's guide on how to do kegel exercises properly — using these exercisers certainly makes the experience a lot more pleasurable. Plus, it takes the guesswork out of whether you're doing them properly.
Below, find five of the best kegel exercisers you can buy on Amazon. Since each one works a bit differently, be sure to read the full instructions before getting to exercising.