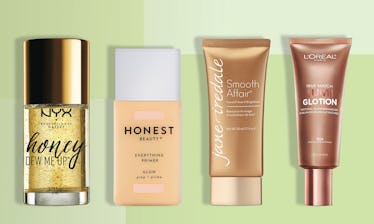 Forget Highlighter — This Is The Key To Radiant, Glowy Skin
Elite Daily/Amazon
Sure, you can obtain glowing skin by drinking a ton of water, getting enough sleep, and faithfully following a skin-care routine loaded with vitamin C products. But that's not always possible. When life happens and you find yourself skipping out on one (or all three) of the aforementioned skin-care rules, prepping your face with one of the best illuminating primers will have your skin looking healthy and radiant in a snap.
Applying primer is relatively self-explanatory: It goes on your face before foundation and directly after moisturizer/sunscreen. But here's where things get a little less obvious. Unlike SPF where more is more, you only need to be using a dime-size amount (or less) of primer to effectively smooth out your skin. Whether you prefer to use your fingers or a damp Beautyblender, be sure to give your primer at least a full minute to thoroughly dry before applying any makeup on top.
As far as choosing an illuminating primer goes, you've got two different options: a colorless primer that illuminates skin by reflecting light, or a tinted primer that contains a hint of shimmer. Colorless primers are more subtle — think dewy skin vs. a shimmer-y glow — and obviously a great choice for every skin tone, while tinted luminizing primers are the better option for anyone who loves an iridescent finish.
If you're using an illuminating primer with more of a pearlescent sheen, your application options become a bit more varied. First, make sure to choose a color that'll enhance your natural skin tone: Fairer skin types should go for cool, silvery tones, while darker complexions should opt for warmer, bronze hues. You can achieve a subtle, all-over glow by using these primers on their own, or, you can mix a drop or two in with your foundation. You can even save the illuminator for last, blending it where you'd normally add highlighter (like on the tops of your cheekbones, your cupid's bow, and the bridge of your nose).
Without further ado, scroll on to discover five of the best luminizing primers to try now.