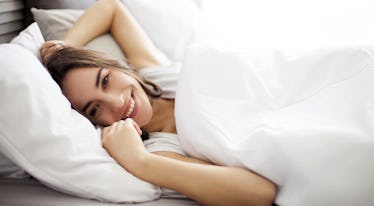 These Goose Down Pillows Are The Key To Your Best Night Of Sleep Yet
Few things in life offer greater joy than a soft, fluffy pillow — especially one that's filled with silky goose down. But before you shop for the best goose down pillows, it's important to understand the difference between down and feathers.
Down is the fluffy stuff on the underside of a bird that keeps them warm, while feathers are the longer, pointy covering that gives them flight. Some pillows are made from 100-percent down while others are a hybrid of down and feathers, and there are pros and cons to each. Pure down is much softer, however, it's more expensive (a lot more) and offers less support. Hybrids, on the other hand, are cheaper and better at holding their shape. The downside is that feathers tend to poke through, which can be uncomfortable.
First, you'll want to consider which type of pillow makes the most sense for you. After that, there are a couple of additional factors to think about while shopping around, like how much support the pillow offers and what the exterior material is made of (cotton is usually the best choice, as it's both soft and breathable).
With all of that in mind, I've put together a list of the best goose down pillows below. I included a variety of options in both pure down and down-feather hybrids, so you can find the one that's best for you.