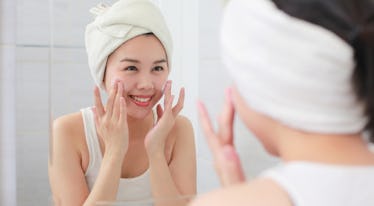 These Gentle Face Washes Have *Hundreds* Of 5-Star Reviews On Amazon
Jayzynism/Fotolia
When it comes to a great cleanser, even the oiliest faces can agree that the ideal choices are non-stripping and non-irritating. That's why the best gentle face washes suit all skin types, even if your skin isn't particularly sensitive.
As general rules, you want a formula that's free of drying ingredients like denatured alcohol and has moisturizing ones — think ceramides, glycerin, and hyaluronic acid. And even if your skin is oily, avoid washing it more than twice a day and use an oil-absorbing sheet during the day instead. Over-washing is a big cause of all that excess oil.
If you do have sensitive skin, any kind of fragrance should be avoided including essential oils. Even though they are natural and work for some people, they can also cause irritation, especially when used in large doses. Consider choosing a creamy wash. While these won't give you a squeaky clean feeling, they are also much less likely to dry out your skin. Exfoliating ingredients like glycolic, salicylic, and lactic acids should also be avoided in your wash since they can be a little too intense.
Just because you're not irritating your skin doesn't mean you won't get a deep clean. These picks for best gentle face washes will remove dirt and makeup without causing unwanted reactions.