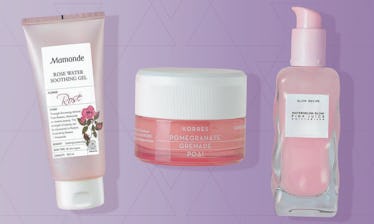 These Gel Moisturizers Will Change The Game For Oily Skin Types
Elite Daily/Amazon
For oily skin types, the struggle to keep your skin moisturized without increasing shine can seem like a never-ending struggle. On the one hand, you know that moisturizing skin is the key to keeping it healthy and balanced, but many face creams tend to include heavy ingredients and more oils that don't play nicely with your skin. That's why you can benefit from trying one of the best gel moisturizers for oily skin instead.
Lightweight but still hydrating, gel formulas tend to work well with oily skin because they're water-based, which is why they're sometimes referred to water gels or water creams. Most creams and lotions, on the other hand, are oil-based, which is why you should steer clear if you have oily or acne-prone skin.
When shopping for a good gel moisturizer, look for ingredients like hyaluronic acid and glycerin to hydrate and moisturize skin without clogging pores. If you need further shine-stopping ingredients, you can look for a formula that includes ingredients with natural astringent properties like witch hazel, pomegranate extract, and lady's mantle. Ingredients like willowherb extract and rose water can also help balance skin and reduce excess oil production, while a BHA like salicylic acid can help prevent and treat acne by gently exfoliating and keeping pores clear of bacteria, dirt, and oil.
To keep your skin hydrated without leaving it greasy, give one of the five best gel moisturizers for oily skin on this list a try.